Table Ware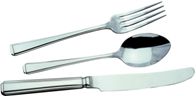 For the best selection of cutlery at great prices you are in the best place


At The Catering Equipment Company we have the full selection of Steelite crockery these include Steelite Simplicity White, Steelite Performance which include Marina Red
Carnival Sapphire, Monte Carlo White, Dapple Green, Dapple Blue, Marina Blue, Naturals Peppercorn, Taste, Naturals Fennel, Rio Blue, Carnival Fern, Shantung, Cookware Sapphire Naturals Paprika
Arondo, Carnival Sunflower, Carnival Onyx, Carnival Amber, Claret, Black Line, Naturals Honey, Rio Green
Marina Avocado, Dapple Amber, Duo Band, Prima, Cookware Simplicity, Monte Carlo Ivory, Cookware Sunflower, Rio Pink, Cookware Fern, Carousel and Rio Yellow.
Also available is the Steelite Distinction range that includes Bianco White, Bianco Noir, Quodro, Monaco White, Bianco Bordeaux, as well as sheer White, Contour, Sheer Zen, Mandarin, and Alvo White.
Steelite crockery or Steelite china which ever you prefer to call it, is renowned for strength and durability as well as having that stylish quality required in today's restaurants please call our sales team today for all your Steelite needs.